New 2014 Webcast Series
The Rehabilitation Research and Training Center (RRTC) on Employment of People with Physical Disabilities Webcast Series begins February 13th. Connect to 8 video presentations followed by chatroom sessions where you can ask questions directly of the presenters. Don't miss this opportunity to receive presentations on the following employment topics:
2/13 Employment and Social Security Disability Benefits - Laura Coffey Richardson


3/13 MS in the Workplace: Effective Job Accommodations - Anne Hirsh, MS


4/10 Community Re-integration of Veterans - Amy Armstrong, PhD & Tom Waterworth


5/08 A Measure for Studying Successfully Employed People Who use Wheelchairs - David Gray, PhD & James Krause, PhD


6/12 Self Determination - Michael Wehmeyer, Ph.D. & Michael Ward, Ph.D.


7/10 Employment Concerns & Vocational Rehab for People with MS - Phil Rumrill, PhD


8/14 An Unconfined Life: Role of Employment - Nancy Brooks-Lane & Chris Coleman


9/11 Assistive Technology in the Workplace - Tony Gentry, PhD
You may register for the series or for single webcasts. Meet the Presenters and Register
Top YouTube Video
Getting to Work After a Brain Injury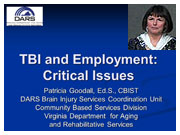 Patricia Goodall discusses research and strategies for returning to work following a traumatic brain injury (TBI).
Patricia Goodall, MEd, EdS, CBIST, is the Manager of the Brain Injury Services Coordination Unit, Virginia Department for Aging and Rehabilitative Services (DARS). Her previous positions included two years as director of training for a federally-funded Research and Training Center on Traumatic Brain Injury at Virginia Commonwealth University, and eleven years working on state and federal grants to develop and implement the concept of Supported Employment. Visit our YouTube Channel
New Monograph Available
Models of Success: Employment for Individuals with Autism Spectrum Disorder
This monograph contains research findings from VCU-RRTC which is funded by the National Institute on Disability & Rehabilitation Research. Topics covered:
iPod Touch as Assistive Technology,
College Students with ASD and Careers,
Transition-Aged Youth with ASD and Community Based Functional Assessment,
VR Counselors on Career Planning for College Students with ASD, and
Customized Employment.
The Center on Transition to Employment Webinar
The Discovery of Intervention Strategies to Improve Employment Outcomes for High Risk Youth with Disability
The Center on Transition to Employment invites you to a two-part informational webinar on a secondary analysis of the National Longitudinal Transition Study 2 (NLTS2). The first part of this research discusses a data mining strategy used to identify groups of youth who are at-risk of lower employment based on their non-modifiable characteristics. Four groups of youth who were considered particularly at-risk were identified, with the ability to understand what is being said and disability type being the most important group predictors. The second part of this research focuses on finding modifiable characteristics that are important predictors of employment for each of these groups. Register for the webinar
In the News
Place Matters
Place Matters - Place Matters is a short documentary about individuals with disabilities moving out of Virginia's training centers into the community. Created by Griffith Productions for the Virginia Board for People with Disabilities (VBPD). View this YouTube Video
NCRE President's Award
Each year, the National Council on Rehabilitation confers the President's Award. The President's Award recognizes a truly superior state-federal vocational rehabilitation (VR) program. It honors excellence among state agencies. It is an opportunity to share innovative and creative efforts with colleagues. The recipient of the 5th annual NCRE President's Award is the Virginia Department for Aging and Rehabilitative Services (DARS) whose two-term Commissioner is James A. Rothrock, a 1978 graduate of the VCU Department of Rehabilitation Counseling. The award was presented to Commissioner Rothrock on November 5, 2013, in Washington, D.C. by NCRE President Jared C. Schulz, Ph.D.