Upcoming HVRP Free Webcast!

Implementing HVRP In-house Work Centers
Date: Nov. 18 | Time: 2:00 pm ET
Presenters: Richard Salnick
The purpose of this webcast is to provide information that will assist HVRP Centers that are contemplating having in-house call centers for their clients. The webcast will provide a process to assess the existing facility, organization, and clients to determine what actions will be required. In addition, the presenters will discuss the costs to start-up and implement an in-house call center.
HVRP (Homeless Veterans Reintegration Project) Technical Assistance Center is funded by grant #HV-16488-07-75-5-51with the US DOL.
---
WIPA Webcast Archive Available

Wage Reporting for Beneficiaries of SSA Disability Programs
By Lucy Miller

This presentation provides practical information on how to effectively report wages or other forms of earned income to the Social Security Administration. This training offers an overview of the new SSI Automated Telephone Wage Reporting System and discusses when use of this system is most beneficial. Additional real-life techniques for effective wage reporting are described and tested tools for use in wage reporting also shared.
VCU Work Incentive Planning and Assistance National Training Center is funded by contract #SS000760050 with the Social Security Administration.

---
Journal of Vocational Rehabilitation Article
Report: An analysis of self-employment outcomes within the Federal/State Vocational Rehabilitation System

by Revell, G., Smith, F. & Inge, K. (2009). JVR, 31(1), 11-18
An objective of the START-UP/USA project, funded by U.S. Department of Labor, The Office of Disability Employment Policy, is to study the extent to which the Federal/State Vocational Rehabilitation Program supports self-employment vocational alternatives for individuals with disabilities.
The purpose of this report is to provide an analysis of self-employment participation and outcomes by individuals with disabilities within the Federal/State Vocational Rehabilitation (VR) System. This report focuses on outcomes in self employment through a longitudinal analysis of closure data contained in the Rehabilitation Services Administration (RSA) 911 Closure Reports for the period covering Fiscal Years 2003–2007.
The Journal of Vocational Rehabilitation is published by IOS Press.
Self Employment Online Course
Overview of Self-Employment for Entrepreneurs with Disabilities Online Course (10/19/09 - 11/23/09)
Self-employment is increasingly recognized as a viable employment option for people with disabilities. Self employment for individuals with disabilities involves minimizing the fears of the prospective business owner, as well as the rehab & local small business development professionals who assist them.
The course will cover these important topics & more…
Strategies for Exploration & the Discovery Process
Writing a Business Plan
Conducting a Feasibility Study
Accessing Community Supports
Identifying Funding
Using Work Incentive
Start-Up-USA is funded by cooperative agreement # E-9-4-6-0111 from the U.S. DOL-ODEP.
---
Visit the New Autism Website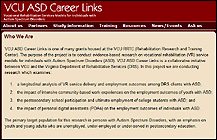 VCU ASD Career Links is a collaborative initiative between VCU and the Virginia Department of Rehabilitative Services (DRS). The purpose of this project is to conduct evidence-based research on vocational rehabilitation (VR) service models for individuals with Autism Spectrum Disorders (ASD). Visit the website to find out more about this research project
VCU-ASD is funded by grant #H133B080027 with the US DOE - NIDRR.
---
Free Webcast hosted by NCDDR

Employment Outcomes After Traumatic Brain Injury: Does Race/Ethnicity Matter?

Date: Oct 21, 2009 | Time: 3:00 pm ET
Presenters: Juan Carlos Arango, PhD & Kelli Williams Gary, PhD, both with VCU's Project Empowerment
Traumatic brain injury (TBI) is one of the most prevalent and debilitating conditions in the U.S. Of the estimated 1.4 million individuals who sustain a TBI annually, about 1.1 million are treated and released from emergency departments, 235,000 are hospitalized, and 80,000 to 90,000 experience permanent disability from their injury. TBI typically affects an individual either early in their productive years or once they have established a productive life. Besides the economic impact of lost years of work on the individual, family, and society, research indicates that employment is one of the most important psychosocial predictors of well-being, quality of life, social integration, and recovery in survivors with TBI.
Find out more & Register online

VCU's Project Empowerment is funded by the National Institute on Disability and Rehabilitation Research (#H133A080060)