Upcoming RRTC Free Webcast

Impact of Follow-Along Support on Job Tenure in Evidence-Based Supported Employment

Date: June 17th | Time: 2:00 pm ET
Presenter: Gary Bond, Ph.D., Professor of Psychiatry Dartmouth Psychiatric Research Center Dartmouth Medical School
The Individual Placement and Support (IPS) is an evidence-based model of supported employment for individuals with severe mental illness. However, little is known about the nature and intensity of follow-along support in IPS programs or how IPS helps clients become steady workers over the long term.
This webcast summarizes the findings for a two-year follow-up study of follow-along support and employment outcomes for 142 IPS clients. We found that mean job tenure for IPS clients was twice that reported in the literature. We also found a significant association between frequency of follow-along contact and duration of employment. I discuss the study's implications for specifying the employment specialist role after a job start and for enhancing the effectiveness of the IPS model with regard to job tenure.
VCU-RRTC is funded by grant #H133B040011 with the US DOE - NIDRR.
---
JVR Article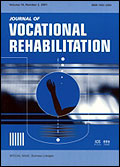 Accessing employment supports in the adult system for transitioning youth with autism spectrum disorders

by Jennifer McDonough & Grant Revell
Effective transition from school to the adult community and employment for youth with Autism Spectrum Disorders (ASD) requires knowledge of an array of state and community agencies and organizations. This paper provided an overview of current research on employment outcomes for persons with ASD, with emphasis on employment outcomes achieved through participation in services provided by State Vocational Rehabilitation agencies. Descriptions are given for the primary providers of employment and related supports in the adult service system for transitioning youth with ASD.
Two case study examples are provided detailing the development and implementation of employment plans responsive to the unique needs and abilities of young adults with ASD. Becoming well informed about resources at the community and state level and learning how to network effectively among these resources are emphasized as key to planning and implementing an effective transition program for a youth with ASD.
The Journal of Vocational Rehabilitation is published by IOS Press
---
APSE 2010 Atlanta

21st Annual APSE National Conference - The only national conference focusing solely on integrated employment

Date: June 8-10, 2010

Location: Loews Atlanta Hotel, Georgia
APSE is hosting its annual conference, themed "Employment First: Not Just a Slogan". The conference focuses exclusively on employment of people with disabilities in the community, and it is the premier event for sharing knowledge, expertise and ideas on the latest and best innovations to make employment for all a reality.
This year APSE is spotlighting two areas —Social Security Ticket to Work and Work Incentives and Mental Health & Employment. Other breakout sessions will focus on state of the art innovative practices in job development, job support, transition, public policy, leadership and Employment First. In addition, there will be a self-advocates' conference orientation and meet & greet on the first day along with a community conversation focused on issues facing self advocates and employment.
This year's Employer Leadership Forum will be a focus of the conference and will offer opportunities to hear from and network with employers from around the country.
Conference and Registration details
VCU-RRTC Ethics Course
Ethical Issues and Decision Making for Rehabilitation Professionals Webcourse
EARN 10 CRCs in ETHICS*
This 6 week online course explores the professional ethics that guide rehabilitation professionals as they work with customers, individuals with disabilities and employers. The course uses the newly revised Code of Ethics for Rehabilitation Counselors developed by the Commission on Rehabilitation Counselor Certification (CRCC) as the guiding source of the ethical framework for the profession. Course Registration Fee: $125. CRCC Desk Reference on Professional Ethics is required and available from CRCC @ $39.99.

Topics include:
Overview of Ethics
Scope of Practice
Ethical Climates & Dilemmas
Decision Making & Legal Implications
Cultural Competence & Multiculturalism
* The CRCC's continuing education requirement includes a minimum of 10 hours in ethics which must be completed within the current five-year period. More information & Registration
VCU-RRTC is funded by grant #H133B040011 with the US DOE - NIDRR.
---
Assets for Independence (AFI)
Impairment-Related Work Expenses
What is an Impairment-Related Work Expense? An Impairment-Related Work Expense (IRWE) is a work incentive available to both Title II Disability and Supplemental Security Income (SSI) beneficiaries. Impairment-Related Work Expenses are services or items that are necessary for a person with a disability to work, and are incurred by that person as a result of their disability. The purpose of the IRWE work incentive is to enable individuals to recover the costs of such expenses. Read the AFI article
The Lewin Group & VCU are key collaborators in the Office of Community Services' initiative to increase IDA participation for people with disabilities
VCU-RRTC is funded by grant #H133B040011 with the US DOE - NIDRR.
---

Upcoming PEATC Webcasts
Be sure to register for the final webcasts in the PEATC webcast series
The New Ticket To Work - What's in it for Young People?
Date & Time: 5/3/2010, 2:00 - 2:45pm ET
Presenter: Sallie Rhodes, Ticket to Work Program Specialist, CESSI, SSA's Program Manager for Recruitment & Outreach

The Social Security Administration is serious about ensuring young people with disabilities have the option of embarking upon meaningful careers and life long self-sufficiency. The Ticket to Work program is one tool to support new job seekers. Learn how young people with disabilities can access the array of Social Security work incentive programs and how they can take advantage of the resources Ticket to Work employment networks provide. Register for this webcast or the entire free series
Universal Design for Learning
Date & Time: 5/17/2010, 2:00 - 2:45pm ET
Presenter: Frances Smith, Ed.D, CVE – Coordinator of Technology & Distance Ed, VDOE Training & Technical Assistance Center & Collateral Faculty, VCU

Technology advances are opening doors for people with disabilities in ways never before imagined. Families and educators can learn how classroom accommodations may be transferred in the transition to post school life. Parents can leverage this information to help their transition age youth with disabilities embrace strategies to help them become life long learners. Register for this webcast or the entire free series

This series is funded by PEATC in partnership with VCU.
---
HVRP Training for Staff & Community Partners
Hosted by: Volunteers of America of Greater Ohio
May 11, 2010 | 9:00 am - 4:00 pm
Location: Leatherlips Yacht Club, Powell, OH
Presenters: Valerie Brooke & Tom Sechrist
Topics to be covered:HVRP Best Practices, Customized Employment, Marketing to Employers, & Engaging Clients in the Employment Process
Register Now! The training is free & food will be provided!
HVRP (Homeless Veterans Reintegration Project) Technical Assistance Center is funded by grant #HV-16488-07-75-5-51with the US DOL.