New! RRTC Webcast Series - Complimentary Registration
Connect to live video presentations using your computer!

Brian McMahon

Date: April 19, Time: 2:00 - 2:45 pm ET Workplace Discrimination and Disability: Findings from the National EEOC ADA Research Project
Presenter: Brian McMahon, VCU
Early findings from the National EEOC ADA Research Project will be presented as well as an understanding of the types of studies that are and are not possible using this dataset. The Project has furthered our understanding of the nature and scope of workplace discrimination under ADA Title I. Guidelines for accessing the database or recommending research questions with direct application to the elimination of workplace discrimination will also be discussed.
5/16 - Effective Disability Management Practices - Rochelle Habeck, MSU & Larry Hickey, UCSF
6/5 - A Business Mentor Program that Works - Elizabeth Getzel, VCU
Register for this Complimentary RRTC Webcast Series
---
New Manual Available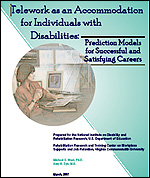 Telework as an Accommodation
for Individuals with Disabilities: Prediction Models for Successful and Satisfying Careers - $7.95
Unemployment and underemployment of citizens with disabilities continues to be a national crisis. An alternative work arrangement of particular interest to people with disabilities is telecommuting, also called telework. Telework is work performed at a distance using information and communication technology.
For many persons with significant disabilities, the increasing prevalence of telework offers the possibility of an accessible barrier-free workplace, flexible scheduling and the elimination of disability-related bias or discrimination. Still, many employers will question the value or need for telecommuting within their business. This research project directly addressed these issues. Order this Manual Online $7.95
Visit the New Start-Up-USA Website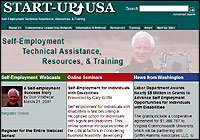 Are you interested in Self Employment? Start-Up-USA (Self-Employment Technical Assistance, Resources, &
Training) provides technical assistance and disseminates resources nationally to individuals with disabilities interested in pursuing self-employment.
This includes a live webcast series with successful entrepreneurs who will share their secrets for success. Visit the Start-Up-USA website for more information and sign up for the e-news updates.
Start-Up-USA is funded by a cooperative agreement (# E-9-4-6-0111) from the U.S. Department of Labor, Office of Disability Employment Policy.
Start-Up USA Self-Employment Webcast Series

Melissa Clark


Johnelle Howanach

Date: April 18, Time: 2:00 - 2:45 pm ET
Family Support of Self-Employment
Presenters: Melissa Clark & Johnelle Howanach

Melissa Clark, who has fetal alcohol syndrome, was adopted in 1982 at the age of 6 by Sister Johnelle Howanach. In this webcast, Lissie will present her story and how she overcomes the challenges and struggles in her life. Sister Johnelle will share the strategies that she has used to teach Lissie. Lissie and Sister Johnelle have franchised a gourmet pet biscuit business called "Lissie's Luv Yums." Luv Yums was crafted around Lissie's interests, abilities, talents, and most importantly, her need to function as a businessperson. Find out more about this Webcast or Register for the Entire Series
---
CRP-RCEP Webcast

Dennis Born

Date: April 16, Time: 2:00 - 2:45 pm ET
Employment for Individuals with Disabilities with Criminal Records
Presenter: Dennis Born
In this webcast, the presenter will discuss employment barriers and strategies for individuals with psychiatric disabilities and criminal histories. An overview of employment barriers and contributors to successful employment outcomes will be given along with an in depth discussion on the types of supportive interventions that have worked for job placement, development, and retention for individuals with disabilities that have criminal records. Register for this webcast or view the entire CRP Series