New VCU Autism Center for Excellence Website Launches!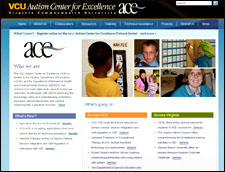 Virginia Commonwealth University Autism Center for Excellence (VCU-ACE) launches its website! The website provides information on training activities occurring throughout the state as well as a host of online training events for anyone who lives with, works with, or supports an individual with an autism spectrum disorder.
Additionally, resources including fact sheets and summaries of journal articles on topics related to ASD are available by browsing categories of interest. We hope that you find our new site easy to navigate as you explore our rich content on individuals with autism spectrum disorder living and learning in the community.
VCU-ACE wants to be your resource of choice related to information on how to support individuals with autism. Over the coming months, our website will disseminate the most up-to-date evidence-based practices in the Commonwealth of VA and the Nation! Please visit us regularly. -- Dr. Paul Wehman, VCU-ACE Director

VCU-ACE is funded by the Virginia Department of Education (VDOE). Visit the VCU-ACE Website

---
JVR Article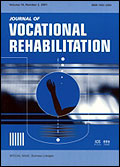 The Evaluation of the Demonstration to Maintain Independence and Employment - by Henry T. Ireys & Paul Wehman
Established in November 1999 within the Ticket to Work and Work Incentives Improvement Act, the Demonstration to Maintain Independence and Employment (DMIE) aims to determine whether a program of medical assistance and employment supports for workers with potentially disabling conditions can prevent or postpone the loss of employment and subsequent enrollment into federal disability benefit programs.
A White House press release issued on the day President Clinton signed the bill noted that the DMIE should provide new information on the effect of "early healthcare intervention in keeping people with disabilities from becoming too disabled to work". Read this JVR Article *
*Join APSE to receive free online access to JVR
VCU Business Connections

VCU Health Systems Project Search
The VCU-RRTC continues its commitment to transition age youth through an active partnership with Project SEARCH. This educational program for students with disabilities in their last year of high school is in its second year of implementation at the VCU Medical Center with Richmond City Public Schools. This past year, the project has reason for celebration. Through a series of 10 week internships, seven students gained new skills and completed the program in June, 2010. In collaboration with DRS and VCU Business Connections, five of the VCU Health System's first year completers secured jobs at the VCU Medical Center or in the community. Read this issue of Business Connections (PDF)
---
VCU-ACE Factsheet

Autism Q and A: Facilitating Skill Acquisition Using Positive Reinforcement
People do things every day in anticipation of the outcomes or benefits that they will receive. A man does yard work on the weekends for the personal satisfaction of seeing his lawn well groomed. A teenager baby-sits in order to earn money for buying concert tickets. A child cleans her room at home, because she knows that her mom will bring her milk and cookies when the chore is completed. A student finishes a math worksheet to get points that he can use during break to play a favorite video game. These are all examples of how reinforcement can affect a person's behavior. For instance, the child knows that her mother will bring her favorite cookies after she cleans her room. So, the "behavior" is reinforced, and the child is more likely to clean her room in the future. The purpose of using positive reinforcement in the classroom is to assist students with autism in acquiring new skills and maintaining them over time. Read the factsheet
---
Spring Online Courses

Job Development (4/25/11 - 5/23/11) - Job development is the "process of locating and creating work opportunities for individuals with disabilities". This is achieved by earning an opportunity to engage an employer and from there hopefully moving on to earning a commitment to meet, interview, and hire a specific job seeker. This course covers specific principles associated with job development via online lectures and readings and then requires the learner to take action on his or her behalf to further develop a particular skill. Participants also reflect upon what he or she learned from both the online content and field based experiential activity by sharing personal insights with other course members. Register | Online Courses Brochure (PDF)
Customized Employment (3/21/11- 4/18/11) - Customized employment is a process for individualizing the employment relationship between a job seeker and an employer in ways that meet the needs of both individuals. This course examines how to make this happen. Topics include: overview of customized employment, ways to get to know the job seeker, strategies to find jobs, and blending supports and funds. Earn 1.6 CEUs, 16 CRCs and a Certificate of Course Completion from VCU. Cost $85 per person. Register | Online Courses Brochure (PDF)