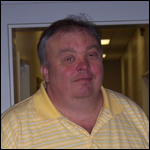 Dr. West has been with the RRTC for 23 years, has primarily been involved in research, evaluation, and policy analysis projects, with expertise in disability (i.e. MR, TBI, SCI), employment, vocational rehabilitation, and rehabilitation technology.
Dr. West has served as P.I for a number of grant projects, including DOL Telework /Telecommuting Pilot Research for veterans with disabilities and RSA's Title III supported employment systems change project. He has authored or co-authored 35 commercially published books and book chapters on employment for people with disabilities and over 50 refereed journal articles.
Projects
Rehabilitation Research and Training Center on Workplace Supports (RRTC)
Publications
Articles:
Book Chapters:
West, M., Targett, P., Crockatt, S. & Wehman, P. (2012). Return to Work Following Traumatic Brain Injury. In Zasler, N., Katz, D., Zafonte, R. & Arciniegas, D. Bullock, M. Kreutzer, J. Brain Injury Medicine, 2nd Edition New York, NY: Demos Medical.